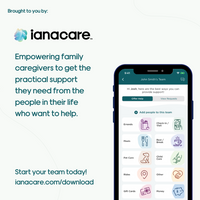 ONE platform for family caregivers
ianacare is a FREE app that mobilizes your friends, family, co-workers, and social circles to provide practical help (meals, rides, respite care, child care, pet care, & house errands) + emotional support.
The next time someone asks "How I can help?", you can say "Join my ianacare team".
Are you a family caregiver? Do you know someone who is?
Anyone can start an ianacare team!
Learn More